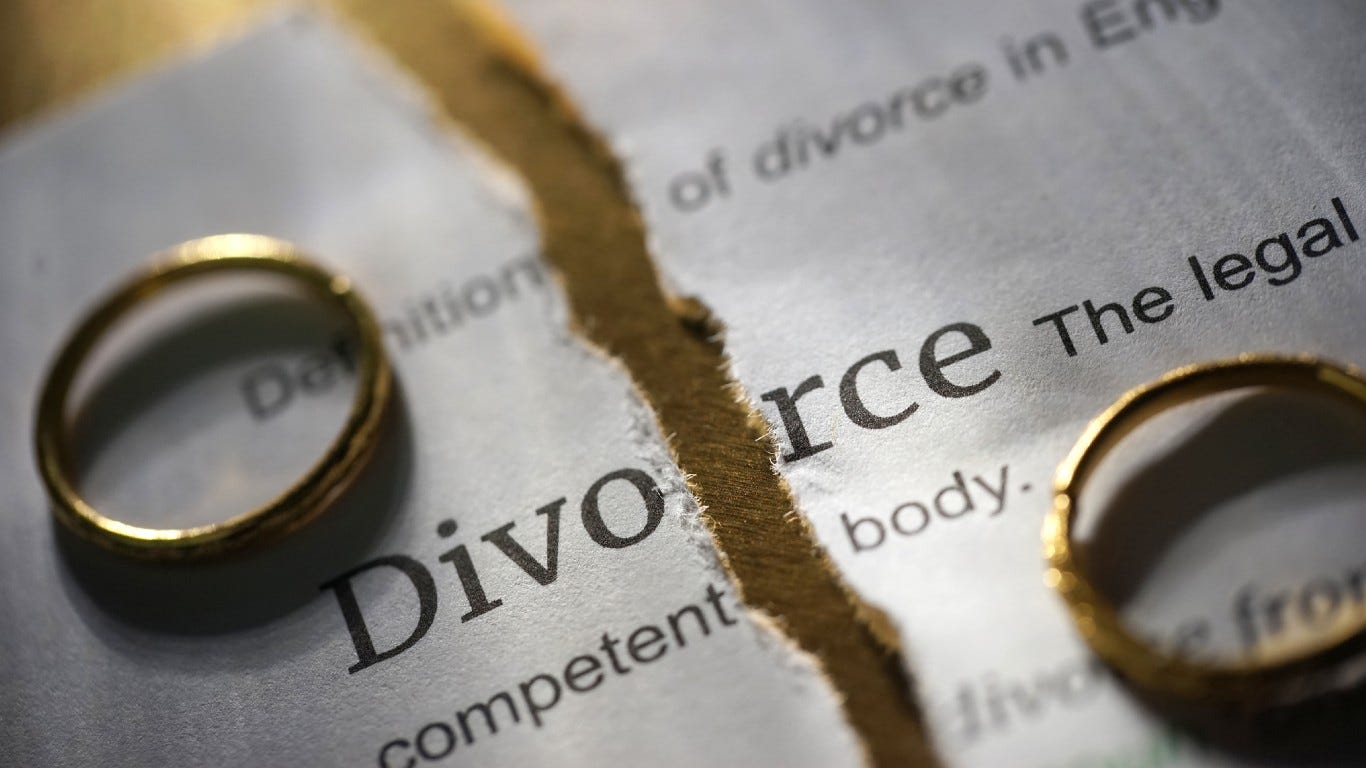 Divorce is a statistically increasingly common reality nowadays. Let's see the most frequent reasons for separation:
STAY TOGETHER FOR THE WRONG REASONS
Getting married, for example, for money or to please someone, is the preamble to an almost immediate divorce, but it often happens that you get married because it is believed to be the best thing to do.
Many people argue that the problems that led them to divorce were already present in the couple from the beginning, but if you go to examine the reasons that led them to get married, very often, there is an error of assessment at the basis. A few examples? Getting married because everyone expects it to be like this, or because you've already spent a lot of money on the wedding and you feel like you can't back down, or because you've built your dream home together.
A relationship of dependence on the other is not healthy. When you have no personal interests or opportunities to express yourself outside the couple, the relationship becomes a handicap. In fact, many people collapse when they realize they are not comfortable doing things without their partner, or when they realize they do not know what kind of music, movie or food they prefer because their identity has been confused with that of their partner.
Many couples forget their friends and their single habits once they are married, and the situation often escalates when children are born, as most parents completely forget that they are a couple.
As children grow up and require less attention, many husbands and wives find that they have gradually drifted away so much that they can't even remember why they got married, as they no longer have anything in common.
DIFFERENT INTERESTS AND HABITS
"Everything has changed since we got married!" Many couples thus answer the question "Why don't you get along well together?" It happens that after getting married there are tendencies or habits in the other that we had not noticed before, such as the tendency to spend or to be too thrifty, or being messy or control freaks, to go into even more detail, for example: one loves animals and the partner does not, one prefers to go to the sea and the partner to the mountains, and so on).
Why hasn't it been noticed earlier? These are the types of problems most common in couples who do not experience cohabitation before getting married. Coexistence before marriage is practically fundamental, understanding what the real habits of the partner are and testing one's affinity before taking the plunge is really important. It is also possible that one of the two changes over time, and that therefore, the affinity of the past is no longer found.
THERE IS NO MORE INTIMACY
Even in the best marriages, the sphere of intimacy is not always 100%. In fact, it happens that one of the two shows less desire than the other for a bad day because he is not in excellent mental or physical shape or for a thousand other reasons. But when it happens often misunderstandings and bad thoughts begin.
Men (in general) feel the need for sexual arousal to be romantic and women instead need romantic moments to be sexually receptive. As long as both are able to get what they want, one feels satisfied and satisfied, but if the mechanism gets stuck, and if you don't have time to notice it, and to repair it, you will face a degeneration of the situation. You will begin to feel unloved and unpopular, and this could lead to divorce.
A very common mistake is to expect the other to give us that happiness that we ourselves are unable to give ourselves; so it happens that in the "down" moments we often expect our partner to make the necessary changes to make us happy again. This attitude manifests itself in the form of complaints, criticisms, accusations, threats, punishments, or blackmail.
When one or both partners try to force the other to do things that she doesn't want to do for the sake of her own happiness, the result can only be a disaster. If your relationship doesn't make you happy, there's nothing wrong with wanting a change. But remember that you are the only one responsible for your happiness.
Money has always been a cause of discussion in most families: it is not always the problems of money that cause divorce, but more than anything else the lack of compatibility regarding the economic aspects.
When two people are at odds with regard to financial matters, very often they end up getting divorced. Imagine the level of conflict between those who spend too much and those who want to save. Who is focused on their future and who lives for the day. Who has no problems in taking out a loan and who sets aside money to make a wish come true.
Over time, this conflict escalates to the point that divorce may be the only logical solution.
DO NOT MANIFEST AFFECTION
Physical contact plays a vital role in a couple, and it's not just about sex. In fact, gestures such as a kiss not related to the sexual act, a sudden hug, hold by the hand while walking, maintain emotional intimacy. Couples who do not show affection through physical contact, whether sexual or not, are bound to feel strangers sooner or later.
Sharing interests and cultivating them together is essential for a good marriage. Of course, having time to spend on your own is just as important, but if there are no common passions and you are not looking for ways to live them together, you will almost inevitably drift away.
INABILITY TO RESOLVE CONFLICTS
There is no couple who never fight. This is why it is essential to identify the basic rules to make sure that we listen and respect each other. Sometimes there is a need for an external referee to help define these rules, explaining how to go beyond resentment and animosity, so that they do not take root in our relationship.
Different Types of Divorce You Can File
When it comes to separation, there is not simply one method to separation. Celebrations can select to each employ a legal representative to represent them throughout the separation procedure, celebrations can select to function with each other with a moderator to assist them in crafting a friendly contract or each celebration can select to work with a collective separation attorney as well as job with each various other as well as the legal representatives with the objective of preventing and also solving problems court.
Uncontested Separation
It is constantly the least pricey as well as ideal selection to fix a separation as well as attempt in an uncontested means. An uncontested separation is where you and also partner interact to craft an arrangement on the regards to your separation. By collaborating as well as settling on the terms, you can prevent litigating.
Or, an event can select to employ a separation legal representative to submit separation documents and also craft a contract to offer to the partner for authorizing 90 days from solution of the separation problem on the partner. If the celebrations permission to the separation and also authorize the documentation, the separation documents can be submitted with court and also the celebrations will certainly get their separation mandate afterwards.
Default Separation
A court will certainly approve a separation by "default" if a celebration declare separation and also the partner does not reaction after being appropriately offered with the separation grievance and also documentation. When a partner's location are unidentified or is reluctant to get involved in the separation procedure, this can be made use of.
Disputed Separation
You can bring your concerns in front of a Master and also Court if you as well as your partner can not come to a contract on the terms of your separation. You will certainly experience the procedure of trading exploration such as monetary paperwork, negotiation arrangements, hearings, as well as, if you can not pertain to a contract after these exchanges, you will certainly have a test.
Mistake and also No-Fault Separation
It made use of be that a separation can not be approved unless there were mistake premises. Those days have actually passed as well as we currently have no-fault separations. Celebrations can still pick to separation on mistake premises for factors of infidelity, desertion; nevertheless, it can be really expensive as a result of the litigious nature of the separation.
Events can pick to each work with an attorney to represent them throughout the separation procedure, events can select to function with each other with a moderator to assist them in crafting a friendly arrangement or each event can select to work with a joint separation attorney and also job with each various other as well as the attorneys with the objective of staying clear of and also dealing with problems court. Celebrations can function with each other with a neutral conciliator to craft the terms of the separation and also after that submit the separation documents themselves with the court. Or, an event can pick to employ a separation attorney to submit separation documents as well as craft an arrangement to offer to the partner for authorizing 90 days from solution of the separation issue on the partner. If the events permission to the separation and also authorize the documents, the separation documents can be submitted with court as well as the events will certainly obtain their separation mandate afterwards.